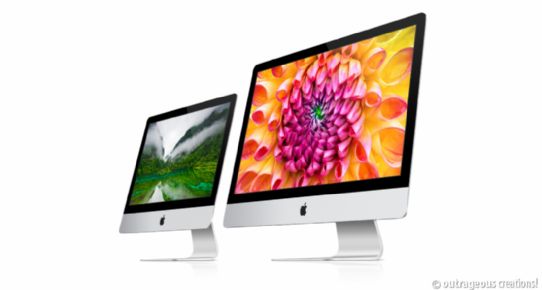 Downloads
Hi Resolution Images
The first iMac was a revolution: An all-in-one computer that put everything — display, processor, graphics, storage, memory, and more — inside one simple, stylish enclosure. Countless innovations later, we've raised the bar yet again. The new iMac includes the most advanced, most brilliant desktop display we've ever built, and it's filled with the latest high-performance technologies. Yet it's just 5 mm thin at its edge with up to 40 percent less volume than the previous generation. To do all that required unprecedented feats of engineering — and imagination. We invented new technologies, pioneered new manufacturing techniques, and devised all-new ways to do more in less space.
Innovations you can see.
You won't want anything to distract you from what you're viewing on these big, beautiful 21.5- and 27-inch displays. And nothing will, thanks to a new display design that reduces reflection by 75 percent. In addition, because the LCD now sits right up against the glass, your content seems to leap off the screen.
IPS technology and LED backlighting.
The gorgeous iMac display looks great from any seat in the house. A technology called in-plane switching (IPS) gives you a bright picture with excellent color from nearly any angle. And LED backlighting offers instant-on, uniform brightness with no waiting. So you're always ready to share that vacation slideshow with the family.
Vivid, true-to-life color. Every time.
Everything you see on the big, glossy display — from skin tones and dark shadows to bright blue skies and green fields — is rich and vibrant. And the colors are more true to life, too. That's because every iMac display is individually color-calibrated using state-of-the-art spectroradiometers to match color standards recognized around the world.
Videos